Mexican President Andrés Manuel López Obrador criticized the recently issued U.S. government's travel advisory for Mexico by showing a video of a crime committed in New York City.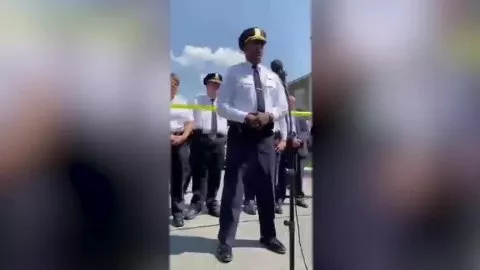 During a press conference on Wednesday, Obrador spoke about the travel advisory issued by the U.S. State Department which warns against travel to dozens of Mexican states, citing widespread crime there.
"How can I not go to New York, it is a beautiful city, (for) those who have the opportunity to do so, it is a cosmopolitan city full of migrants, like a kind of capital of the world and of course they have problems like the ones we are going to see," the president said, according to a translation from the Mexican newspaper, Millennium. "There is no way that I say 'do not go to New York because look at what is happening', because it is also in bad taste, it is nosy, that is not serious."
"In the U.S. embassy, [they say] "don't go to this state…It's like if I said, 'Don't go to Los Angeles, don't go to New York,'" Obrador continued.
The Mexican president then went on to show a video of an apparent robbery that reportedly took place in New York City. "It seems like this is a movie. This is New York. The black car, look at the way it robs [the other car]," Obrador said after the video played.
The remarks by Obrador come just a few weeks after the U.S. State Department issued the travel advisory. The advisory included four levels for different Mexican states, with the highest alert being "Do Not Travel To."
"Violent crime—such as homicide, kidnapping, carjacking, and robbery—is widespread and common in Mexico. The U.S. government has limited ability to provide emergency services to U.S. citizens in many areas of Mexico, as travel by U.S. government employees to certain areas is prohibited or restricted," the U.S. State Department said in the travel advisory.
Six Mexican states that were under the highest level of the travel advisory included Colima, Guerrero, Michoacán, Sinaloa, Tamaulipas and Zacatecas.
"U.S. citizens are advised to adhere to restrictions on U.S. government employee travel. State-specific restrictions are included in the individual state advisories below. U.S. government employees may not travel between cities after dark, may not hail taxis on the street, and must rely on dispatched vehicles, including app-based services like Uber, and regulated taxi stands," the State Department added in the travel advisory.
Newsweek has reached out to the U.S. State Department for comment.