We knew it was going to be a big undertaking when we decided to rent a car and drive the entire length of the Baja peninsula — a 20-hour trip with lots of stretches of nothing but mountains and desert. What we did not anticipate was the arrival of Kay, a Category 1 hurricane that bashed its way up the Pacific coast of Baja, bringing 75 mph winds and torrential rain.
Fortunately, we had already made it up to Ensenada before the worst of the storm hit. At our northerly perch, as we watched the storm batter both the Pacific and Sea of Cortez coasts, things remained relatively calm. We braced ourselves for winds and flooding, but when morning came on Sept. 9, all we saw was a lot of fog and a bit of rain. The rest of the peninsula, however, did not fare as well. With a flight out of Los Cabos on Sept. 16, and a rental car that could only be returned to a boutique agency in San Jose del Cabo, the rest of our roadtrip itinerary was looking tenuous, at best.
Ensenada, Baja California, with fog on the horizon. Photo Credit: Meagan Drillinger
For most travel advisors, the biggest area of concern would be Los Cabos, which was the first stop in Hurricane Kay's path. Surging waves and lashing rain struck the twin resort destination, but according to the Los Cabos Tourism Board, cleanup had already begun and not much damage had been done. Los Cabos Airport remained open and, as of Sept. 8, flight connectivity was gearing up to resume.
But travel advisors who sell other parts of Baja California Sur and Baja California, and who have knowledge of the region, should know that all is not OK in the rest of the peninsula. With limited resources, a sparse population and no official source of highway updates, I joined a Facebook group called Talk Baja Road Conditions in order to get real-time updates from others who live down the peninsula or had gotten stuck making a similar journey. That proved to be a godsend.
Members posted videos and photos in real time, as well as anecdotes from their own personal drives. For a time, the transpeninsular highway connecting Los Cabos and La Paz was closed, though that appears to be open now. La Paz saw heavy rain and winds, but damage was also minimal. The same is true of Loreto, though major crossings, like bridges near Santa Rosalia, Catavina and San Bruno continue to be flooded or, in some cases, completely washed out. Towns like Mulege and Bahia de Los Angeles are inundated. We were just visiting these towns less than one week ago, and in the blink of an eye they are struggling to rebuild.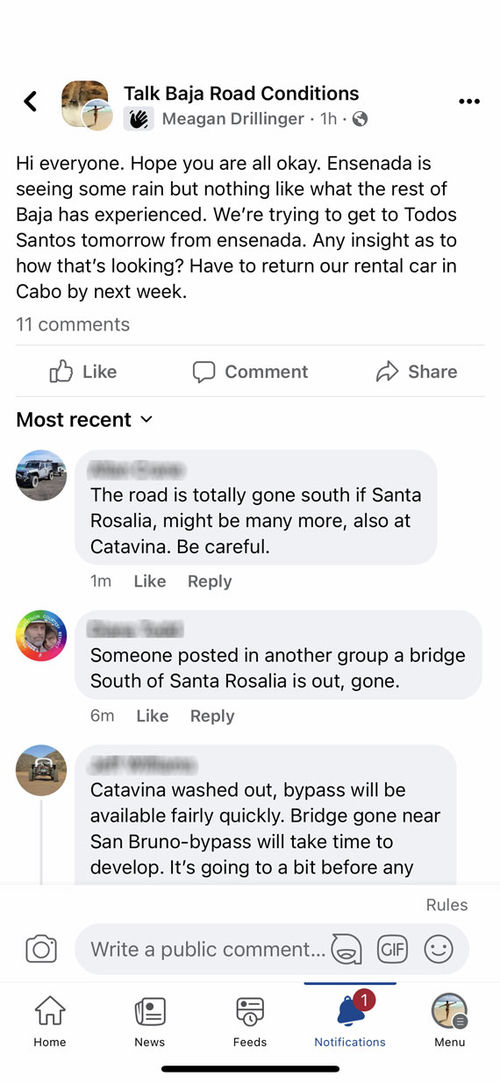 A screenshot of a Facebook road updates message group. Photo Credit: Meagan Drillinger
There were reports of lines 50-cars deep for fuel at gas stations. Anyone who has driven the Baja peninsula before knows there are vast stretches of nothing but highway, and gas stations are few and far between, running the risk of these fuel stops running out of supply.
As we sit up in Ensenada, we are grateful to be safe and relatively dry. But it will surely be several days before we can safely get south of Loreto and continue back to Los Cabos. For those who live in Baja, this experience has greatly disrupted lives and, for many, changed them forever. For those of us passing through, it has been a reminder to stay patient and remember that when it comes to Mother Nature, so much of it is out of our control.
Driving the Baja peninsula was a dream of mine, and I am so glad I did it. However, next time, I would probably only do it in one direction, and I'd do it in a camper van so that we would not have to wait so long between drives to find places to sleep. I also wish that we had used a travel advisor. We probably would not be in such a state of uncertainty rushing to return a rental car if we had!