When you think of fall, you probably think of cozy sweaters, pumpkin-flavored treats, beautiful foliage, and crunchy leaves. But it's also a great time to travel.
From fewer crowds and lower prices to fantastic events and the tastiest seasonal foods, here are 7 places to visit this fall 2022 that should be on your bucket list.
Punta Cana
The beginning of autumn is sunny and humid, punctuated by afternoon and evening showers, while the hurricane season gradually comes to an end in November. Fall is still a great time to relax on the Dominican Republic's 30 miles of white sand beaches, whether you are diving to discover shipwrecks, fishing, boating or just lounging with a drink in hand at Zo Try Agua Punta Cana or Royalton Punta Cana Resort & Casino.
Munich
After a two-year hiatus due to the pandemic, Munich is finally hosting Oktoberfest again.
The festival is open from September 17 to October 3, and there are both guided tours and packages that include a seat at the Oktoberfest table, so you can skip the lines. There are other fall festivals in the region, too. The nine-day Auer Dult, held this year from Oct. 15-23, continues its tradition and features rides, shows, shopping and plenty of culinary delights, including sausages and roasted almonds.
Ho Chi Minh City
This fall, Priceline has seen four times as many searches for flights to Asia. According to metasearch site Kayak, Vietnam's largest city has witnessed a 46 percent spike in searches compared to 2019, while Expedia reported a 630 percent increase in searches from last fall.
"Vietnam reopened its borders to foreign travelers on March 15 with immediate excitement," Hudson says. "Ho Chi Minh City is very affordable for the fall months, so your travel dollars go a long way." She noted that she found five-star hotels in September and October starting at around $50 a night.
New York City
In addition to The Lion King, which celebrates its 25th anniversary in November, new productions such as Almost Famous (previews Oct. 3) and KPOP (previews Oct. 13) will premiere in New York City.
Summit One Vanderbilt, which has an Instagram-worthy hall of mirrors, and Edge NYC, as well as contemporary digital arts venue Hall des Lumières, have just opened additional vistas. Of course, nothing beats a walk in Central Park as the leaves change color.
London
Autumn is a good time to visit the markets in Portobello Road in Notting Hill and Old Spitalfields in Shoreditch, because there are fewer tourists and it is not so hot. Also, in December you can attend impressive performances like The Burnt City (by Punchdrunk, the company behind Sleep No More) or take a ride on the London Eye or Sky Garden to see the city from a bird's eye view.
Barbados
"From a price and availability standpoint, fall—or shoulder season—is a great time to visit Barbados which has a pretty low risk of hurricanes or heavy enough rainfall to impact your island getaway," says Christie Hudson, head of U.S. public relations for Expedia. She points out that average nightly prices are $90 less during the week of Thanksgiving and nearly $100 less during the month of September.
"There are also several music, food, and surfing festivals that happen during the fall months, so you'll have plenty to do in between relaxing on the beach."
Albania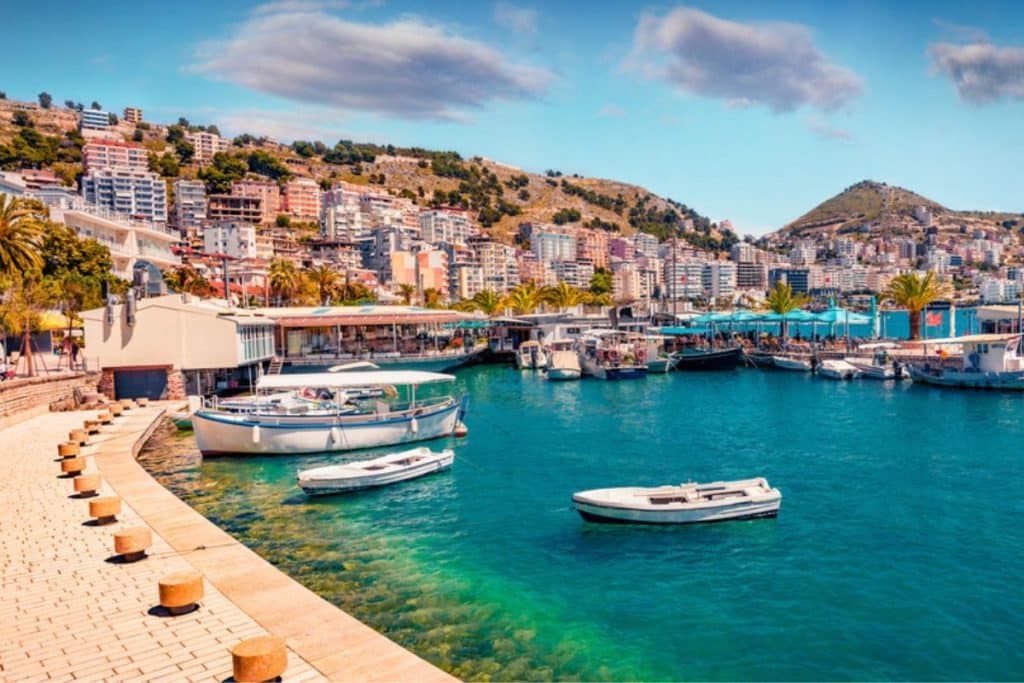 "For a location that is a best-kept secret to beat crowds, Albania has seen almost double the number of bookings in 2022 than it enjoyed in the same period in 2019," says Laura Lindsay, Skyscanner's trend and destination expert. "Most people have yet to discover it, but flights and tourism infrastructure are in place, and thus there are fewer crowds."