Like its sister ships, the Disney Wish, which made its debut earlier this summer, certainly has no shortage of family-friendly areas and activities.
But for a good many young passengers, one of the biggest highlights of any Disney Cruise Line experience is the fleet's signature Oceaneer Club children's center, where kids ages 3 to 12 have free rein to explore interactive play spaces and engage in activities and games, sans parents.
As a result, it's no wonder that the Oceaneer Club onboard the Disney Wish is one of the ship's standout spaces, showcasing an unparalleled level of detail and Disney magic.
During the inaugural Wish sailing I attended in late June, the venue attracted plenty of children and grown-ups alike, with the latter group permitted to explore the kids-only space during dedicated "open house" hours.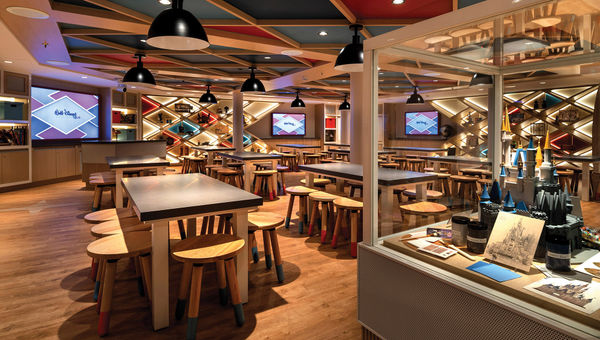 The Walt Disney Imagineering Lab enables kids to discover the secrets of the creative minds behind Disney magic. Photo Credit: Kent Phillips
A good number of adults used the open houses as an opportunity to tap into their inner child and test out the club's slide. The entrance slide, an entirely new Disney Cruise concept, was a hit across all ages, designed to enable kids to check in with club staff at a podium in the Wish's Grand Hall atrium, slip down a "rabbit hole" opening and, after a few twists and turns, emerge a floor below, inside the Oceaneer Club.
For parents, the entrance slide is also intended to be practical, providing an easy drop-off point located in proximity to several adult-exclusive venues, including the "Star Wars"-themed Hyperspace Lounge, "The Princess and the Frog"-inspired Bayou bar and piano bar Nightingale's.
Another major open house draw was the Oceaneer Club's Star Wars: Cargo Bay, a dimly lit, gritty-looking space that instantly transports young guests to a spaceship hold in a galaxy far, far away. Full of blinking buttons and rows of knobs and switches, the Cargo Bay is also home to fictional creatures from the "Star Wars" universe, which, even upon close inspection, appear lifelike, thanks to some very effective and sometimes subtle animatronic movements.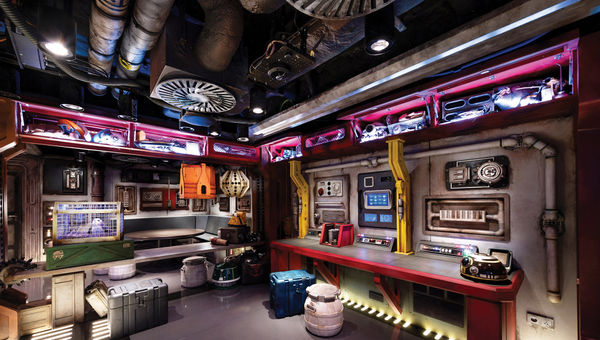 Alien creatures and legendary characters of the "Star Wars" galaxy will take center stage at Star Wars: Cargo Bay. Photo Credit: Kent Phillips
According to Danny Hanke, senior creative director for Walt Disney Imagineering, deciding to include both kids- and adults-only "Star Wars"-themed spaces aboard the Wish was a natural extension of the Disney ecosystem.
"If you have a vacation on the Disney Wish, with a three- or four-day cruise, you might also go to Walt Disney World, where you can get that [Star Wars] experience at Star Wars: Galaxy's Edge," Hanke said during a panel held as part of the Wish's inaugural sailing event. "Then you can come aboard our ship and have the more luxurious side of Star Wars in the Hyperspace Lounge, [while] the kids still have their own Star Wars space."
Meanwhile, Disney Cruise Line understands that while the Cargo Bay is targeted toward kids, "Star Wars" is a franchise that transcends age. As a result, in addition to open houses, the club's design allows for more flexible access.
"Certain rooms, like the Cargo Bay as well as Marvel Super Hero Academy, can be closed off so that you can also invite the teens and tweens and [adults]," said Denise Case, Disney Cruise Line's director of entertainment creative. (In fact, during the open house I attended, the Marvel Super Hero Academy, modeled after a high-tech hero headquarters, had been blocked off for a media filming session.)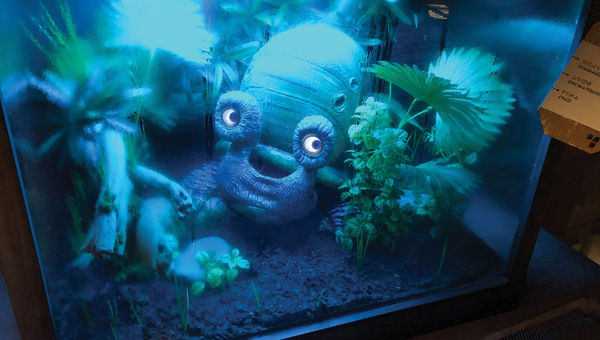 An animatronic critter at Star Wars: Cargo Bay. Photo Credit: TW photo by Christina Jelski
In addition to "Star Wars" and Marvel areas, the Wish's Oceaneer Club features a Disney princess-inspired space known as Fairytale Hall and, for younger children, a small nautical-themed playground called Mickey and Minnie Captain's Deck. Also on offer is the Walt Disney Imagineering Lab, a brightly lit space with Disney memorabilia lining the walls and digital tablets scattered on tables, where kids can design their own roller coasters and craft various other inventions.
As for my family, the Wish's Oceaneer Club passed our own litmus test with flying colors. After my 4-and-a-half-year-old, new to both cruising and the concept of kids' clubs altogether, was talked into giving the Oceaneer Club a try, it took a great deal of convincing (and some minor bribery) to get him to leave.