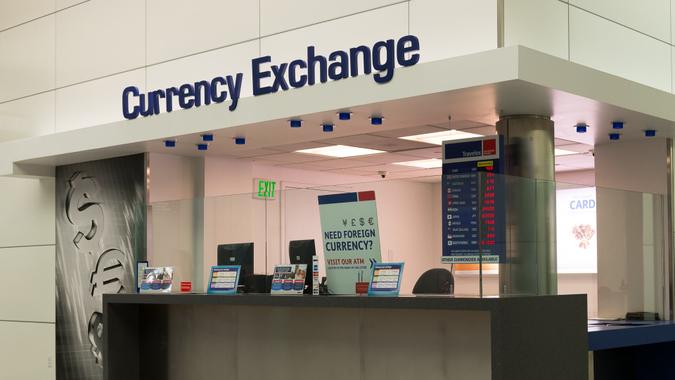 Kenishirotie / Shutterstock.com
For many people, traveling to new destinations is at the top of their bucket list. It can be exciting and wondrous — but downright terrifying if you have an emergency. Luckily, there are ways to help prevent disaster, including carrying the right amount of cash to avoid a sticky situation.
Advice: 9 Bills You Should Never Put on Autopay
See Why: This Credit Score Mistake Could Be Costing Millions of Americans
We spoke with travel experts worldwide to determine precisely how much money you should carry to cover unexpected costs. While the recommended amount varies based on where you are going, most agree that cash is still king almost everywhere. So, whether your next vacation consists of traversing the Swiss Alps or sipping margaritas poolside, we've got you covered.
Here is what our experts say about how much cash to have stashed in the case of a travel emergency.
Keep Cash Handy, But Hidden
Kate McCulley, an expert on female solo travel and publisher of AdventurousKate, notes that she keeps "$100 USD hidden in my luggage" and recommends keeping up to $300 if you go somewhere less developed.
Take Our Poll: How Do You Typically Split the Restaurant Bill?
Throughout her travels, she has found that "USD is king no matter where you are around the world, and it can easily get you out of emergency situations." She also keeps a backup credit card to cover unexpected emergencies or theft but suggests travelers stick to Visa or Mastercard since some countries don't accept American Express.
Also, specifically to Cuba, she said, "You'll need to bring enough cash for your entire trip as Americans can't use ATMs or credit cards anywhere."
When Cash Can Get You in Trouble
Josh Brand, the author of A Backpacker's World, recommends carrying $80 to $100 "at all times." He notes that this should cover unplanned transportation and accommodation costs. He does caution travelers against carrying too much more as there is a risk that the money could get lost or stolen.
For travelers headed to international destinations, Brand said they should "definitely convert to the local currency," particularly in places like Southeast Asia, where it may be more difficult to use American dollars. Also, smaller or independently owned companies may not accept credit cards or USD in less developed countries.
Cash and Credit
Anna Krizova, a travel blogger with Camino Adventures, agrees that "the amount of emergency cash you'll need will vary depending on where you're going." She always carries two credit cards and cash for unexpected situations. When traveling around Europe, she suggests having €50 to €200 (which equates currently to $50 to $200). In America, she says the amount of cash should be between $50 and $200 as well.
Krizova said international travelers who have the opportunity to pay in USD or the local currency should have their emergency stash broken down into small denominations and exchange half of it for local currency. Travelers to remote locations should beware that they may have "limited currency exchange options," so she said you should exchange all of your funds for local currency.
When looking to exchange currency, travelers need to pay attention to exchange rates. Krizova said, "Exchange offices in airports and bus terminals, as well as those in city centers or near tourist attractions, have a less favorable exchange rate than in less popular locations."
Getting Prepared for Your Next Trip
Now that you know exactly how much cash you should have stashed in the case of a travel emergency, you can get busy booking your next trip. Our experts agree that around $100 should get you through most unforeseen situations.
Just remember: You want enough money to cover any unexpected expenses, but not too much that losing it could leave you broke. Take advantage of the hotel safe and split your money between bags so you won't be penniless in the event that one gets lost or stolen.
When in doubt, you should have enough cash on hand to ensure that you won't go hungry or be unable to get from point A to point B. If you want to hedge your bets, in addition to cash, carry at least two credit cards — one on you for everyday expenses and one hidden in your luggage in case of unanticipated costs.
Finally, make sure you don't spend your emergency funds on anything except for, well, an emergency.
More From GOBankingRates
Source link