From voluntourism activities to fireworks cruises and an ever-changing snorkeling adventure, there are some new options to consider when booking tours in Hawaii as the destination comes back from its pandemic pause.
• At Pearl Harbor, the Ford Island Bus Tour is one of those new options. It takes visitors on a shuttle to Ford Island to see the USS Oklahoma and USS Utah memorials, which are not accessible otherwise because they're on an active military base. The 90-minute guided tour is led by a National Park Service ranger, who will give an interpretive talk and answer questions. Reservations are required.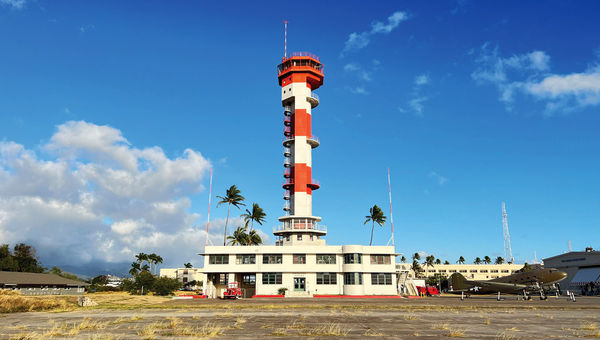 The Pearl Harbor Aviation Museum takes visitors to the top of the restored Ford Island Control Tower. Photo Credit: Courtesy of Pearl Harbor Aviation Museum
• Also on Ford Island, the Pearl Harbor Aviation Museum opened the Top of the Tower Tour, which takes visitors to an operations building, through a firehouse exhibit and up an elevator to the top of the red-and-white control tower, which was completed just months after the attack on Dec. 7, 1941. Following a $7 million renovation, the tower gives visitors a 360-degree view of Battleship Row, military bases and the USS Arizona Memorial.
"The Ford Island Control Tower stands as a symbol of resilience and peace, standing watch over this hallowed ground," Elissa Lines, executive director of the Pearl Harbor Aviation Museum, said in a statement. "It's time for the world to witness Pearl Harbor from an aerial perspective."
There are only 120 Top of the Tower tickets available each day, so it's best to book early.
• Earlier this year, the Hilton Hawaiian Village's long-held tradition of Friday night fireworks returned after a two-year hiatus due to Covid-19 restrictions. The return of the popular weekly event has opened the door for tour operators to launch evening cruises to view the spectacular pyrotechnics.
Known for its submarine dive tours and whale-watching cruises, Atlantis Cruises now offers a Friday Fireworks and Cocktail Cruise aboard the Majestic, a three-level ship with a cocktail lounge and full-service bar. The Waikiki cruise launches from Aloha Tower at 7 p.m., and guests can roam freely and watch the sunset from its decks, listen to live entertainment and enjoy an uninterrupted view of the fireworks display.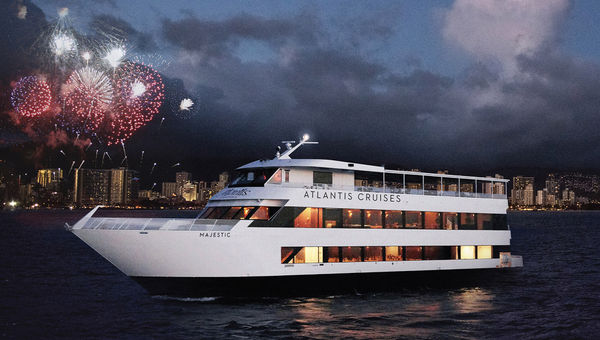 Atlantis Cruises offers a Friday evening cocktail cruise to see the fireworks display off Waikiki. Photo Credit: Courtesy of Atlantis Adventures
• Hawaii Wow Tours launched a Waikiki gondola experience on the Ala Wai Canal in June. It offers day and evening tours, including a Friday evening fireworks cruise.
"Our gondola cruises provide that unique romantic or family/friends-based setting that you can relax and enjoy in luxury," said Shantel Kalmanson, one of the owners of Hawaii Wow. "You can sip chilled sparkling apple cider and indulge in delicious pastries while your friendly personal gondolier guides you on a melodic journey up to Magic Island for majestic views of Diamond Head and then traverses under three bridges of what we affectionately call Waikiki's Grand Canal."
• On the Big Island, Hawaii Forest & Trail added a private lava tube excursion to its Volcano Unveiled tour in 2018 and late last year launched a voluntourism journey called the Mauna Kea Summit & Stars Give Back Experience. The tour takes visitors to the Waikoloa Dry Forest to participate in native-seed collection before ascending Mauna Kea's summit.
"The experience allows our guides to immerse the guests in this endangered dry forest as well as learn about the area they will be visiting on Mauna Kea and how to better preserve for future generations," said Jonathan Wilt, director of sales and marketing for Hawaii Forest & Trail. "After the giveback portion, guests proceed to Mauna Kea for sunset at the summit and then stargazing at a lower elevation with both our Celestron and Stellina telescopes."
Voluntourism activities such as this are increasing as regenerative tourism continues to be top of mind in Hawaii due in large part to the Hawaii Tourism Authority's Malama Hawaii program. Voluntourism opportunities include restoring a native fishpond with the Malama Loko Ea Foundation, planting native trees with the Hawaii Legacy Reforestation Initiative and taking part in the restoration of the USS Missouri Memorial.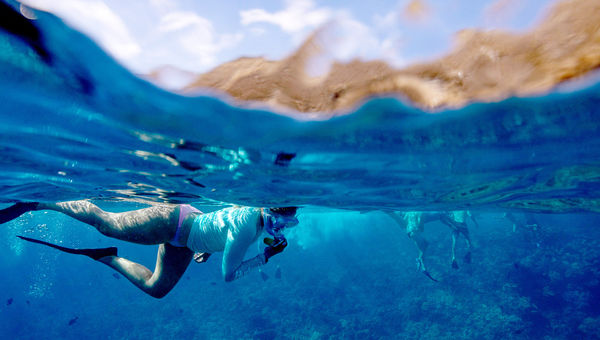 A snorkeler on the Maui Nui Wild Side Lahaina tour with PacWhale Eco-Adventures. Photo Credit: Courtesy of Courtesy PacWhale Eco-Adventures
• PacWhale Eco-Adventures is offering a new Maui snorkeling tour that takes visitors "where many of the bigger vessels can't." The adventure, called Maui Nui Wild Side Lahaina, is a six-hour tour aboard a 34-passenger vessel that departs out of Lahaina.
Offering guests an open itinerary, the captain will choose two destinations on the day of the tour based on ocean conditions. Potential snorkeling spots could include Honolua Bay, the Carthaginian wreck or even a couple of locations off the island of Lanai.
"They will see a plethora of beautiful reef fish and coral with possible sightings of dolphins, green sea turtles, octopus and many other marine animals," the company said.
Owned by the nonprofit Pacific Whale Foundation, the tour will have certified marine naturalists onboard to answer questions. Lunch and refreshments are also provided.