Oceania successfully reworks a Baltics cruise: Travel Weekly
[ad_1]

Departing the Finnish port of Kotka in our coach bound for an Oceania Cruises shore excursion, a highway sign indicates that we are 16 miles from Hamina, where one of Google's data centers is located, in one direction, and 150 miles from St. Petersburg, Russia, in the other.
We're told Google chose the location in Finland because of the country's security and stability. During our 10-day Northern Realms cruise from Copenhagen to Stockholm aboard Oceania's Marina, we spent two days in Finland, which is routinely ranked as the world's happiest country. Public welfare initiatives, like a stunning new public library in Helsinki, make that superlative easy to understand.
But along the idyllic banks of the Kymi, where we board our "relaxing river" raft tour, our guide, Timo Lankanen, points out that Russia is just miles through the tree line to the right. Fellow passengers in the raft joke about whether the wispy clouds we see overhead in that direction could be considered Russian clouds.
"Russia is a bear, and we have been living in the armpit of the bear," Lankanen tells us. A retired member of the Finnish military, he runs rafting tours during the summer because he enjoys doing it. The war in Ukraine is sadly unsurprising to many citizens throughout the Baltics, who we're told have been prepared for something like this to happen for decades.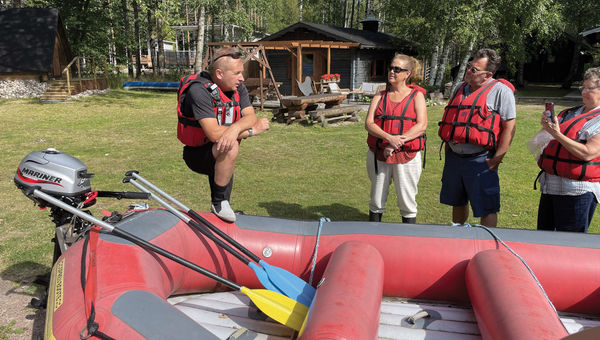 Tour guide Timo Lankanen preparing guests for a rafting excursion on the Kymi River in Finland. Photo Credit: Brittany Chrusciel
"Do you support Finland joining NATO now?" a fellow rafter asks our guide. "No," Lankanen replies stoically. "We should have joined NATO 30 years ago."
St. Petersburg, once considered the crown jewel of a Baltics sailing, has been stricken from cruise line itineraries for months, though coming up with replacement ports and workarounds to entice the summer travel crowd has not been an easy feat. Due to its location on the Gulf of Finland, Kotka is one of these replacement ports of call.
"Many travelers regarded St. Petersburg as the singular reason to travel to the region," Oceania Cruises CEO Howard Sherman said. "Thankfully, our most devoted, hardcore travelers persevered, and we also saw an influx of new bookings from opportunistic travelers who recognized that the region would be uncrowded, which is rather unheard of during the summer."
Sherman noted that the cruise line recrafted Baltic itineraries on the Marina "to provide for greater consumer appeal, predictability and stability." The majority of the Marina's summer season is now focused on Norway, Iceland, Greenland and the North Sea capitals, though my itinerary was one of the remaining Baltic sailings with calls to Helsinki and Riga, Latvia, among other ports.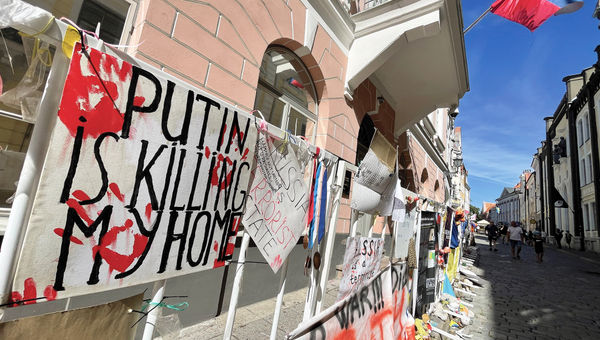 Signs of protest at the Russian Embassy in Tallinn, Estonia, in August. Photo Credit: Brittany Chrusciel
Our Oceania itinerary skipped Gdansk, Poland, due to a scheduling conflict but still called on Tallinn, a popular cruise port and the capital of Estonia. At the gilded Maiasmokk, the oldest operating cafe in the country, a Ferris wheel of delicate teacups spins in the shop window. Seated at the antique counter, equipped with a cappuccino and an oversize slice of cake, I stare out directly to the Russian embassy on the other side of the narrow street. A fence runs the entire length of the embassy building, but not a single wire is exposed: they are covered by baby dolls soaked in red paint and heartbreaking signs, many made by children, accusing Russia of murder and pleading for the war to end.
"The beat of the war drum was loud and never-ending in the media, which unnerved travelers," Sherman said. "But as you saw firsthand, the Baltic region is a spectacular experience, and there is such a rich tapestry of destinations that we are confident that travelers will not miss Russia."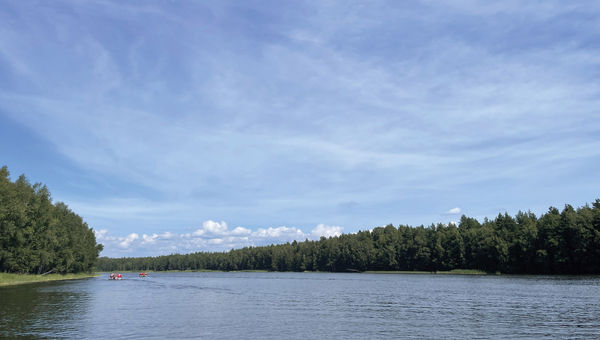 The border with Russia, our guide pointed out, is through the trees on the right bank in this photo. Photo Credit: Brittany Chrusciel
A surprise for me was Lithuania, which also shares a border with Russia. Genetically I am one-third Lithuanian, and my expectations were low that the port city of Klaipeda would represent my ancestry and impress me in one day. But I was far from disappointed as I cycled through diverse landscapes, from forests to sand dunes and down cobblestone shopping streets.
Growing up in the U.S., despite my heritage, I inherited Cold War-tinged visions of Eastern Europe. It's hard to remember that these countries have spent 30-plus years as independent nations working tirelessly to reassert their identities.
At this time, some cruise companies won't touch countries that share a border with Russia or Ukraine, meaning visits with happy Finns and passionate Estonians are both out for the time being.
During one of the most challenging periods in modern travel, between global political events and the pandemic, I respect "an abundance of caution," but I am glad to have visited these Baltic countries. The region is a difficult place to sail in the winter as it freezes over, which means that cruise lines — and the world — can only watch and wait to see what will happen next year.
[ad_2]

Source link