American Airlines unveils Flagship Suite in business class: Travel Weekly
[ad_1]

American Airlines will introduce new business class and premium economy seats in 2024.
The Flagship Suite in business class and the new premium economy seat will debut in 2024 with Airbus A321XLR and Boeing 787-9 Dreamliner deliveries. In addition, American will retrofit its 20 existing Boeing 777-300ER aircraft beginning in late 2024 to include the Flagship Suite and the new premium economy seat while eliminating those planes' eight-seat first-class cabins.
"The arrival of new long-haul aircraft and the customized seat design of the Flagship Suite seats will offer customers a truly private premium experience on our long-haul fleet," said Julie Rath, the company's vice president of customer experience.
American said that premium seating on long-haul aircraft will grow 45% by 2026. The new 787-9 configurations will feature 51 Flagship Suite seats and 32 premium economy seats, up from the current configuration of 30 business-class seats and 21 premium economy seats. American has 25 of those planes on order.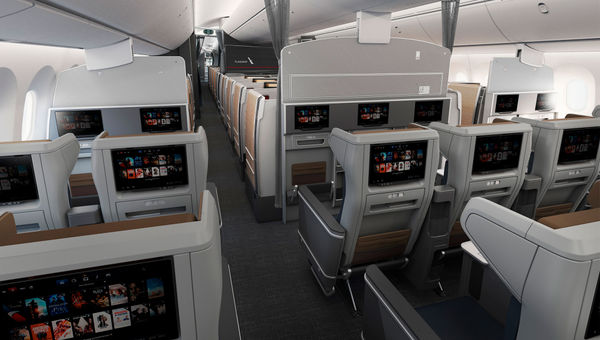 AA said its new premium economy seats will offer double the storage space of American's existing premium economy product. Photo Credit: American Airlines
The 50 Airbus A321XLR aircraft that American has on order will offer 20 Flagship Suites and 12 premium economy seats.
The retrofitted 777-300s will have 70 Flagship Suites and 44 premium economy seats. That compares with the current configuration of eight first-class class seats, 52 business-class seats and 28 premium economy seats, according to Aerolopa.com.
Flagship Suites will feature a sliding door, a chaise lounge seating option and more personal storage space than existing American business-class products. In addition, moveable partitions will allow flyers to conjoin suites in order to dine and spend time with travel mates.
AA said the new premium economy seats will offer double the storage space of American's existing premium economy product. They'll also have larger entertainment screens as well as arms extending from the headrests for additional privacy.
American also announced Tuesday that it will do away with the A321 aircraft interiors that it currently uses for transcontinental flights. The so-called A321T has 10 Flagship First seats and 20 Flagship Business seats. American said those planes will be reconfigured to align with its existing A321s, on which the lone premium cabin is domestic first class.
The carrier said it will rely on Northeast Alliance partner JetBlue to offer transcontinental lie-flat seats from New York and Boston.
[ad_2]

Source link